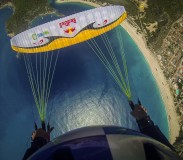 After a weeks of rainy days in Europe we decide to hit the road and visit old and good place in Turkey with Veso.
I've visited Oludeniz more then 10 times in a past, but this time I had a blast :) First flying impressions with our new wings Sonic 3D are lets say good!
AntyRythmic works well and heli connection are super smooth, stable! It would be perfect that wings are 17 sqm, but recently we receive 18 sqm!
When everywhere was raining,we had awesome conditions to fly even over the clouds with an amazing view on turquoise water in lagoon.
Thanks again to all my friends there for a great times and amazing welcome,for sure this May in Oludeniz will stay in my minds forever :)
FlytheEarth team is about to move on another great location,stay tuned more news coming soon!