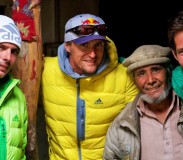 The tour started few days ago from Islamabad trough Karakorum Highway – long 26h drive… Currently the team is fixing stuff like permits etc. in Skardu where we manage at the same time to make our 1st flight just minutes before a violent storm blast… Luckily all of us manage to land safe :)
Return in Skardu after spending one incredible week in Hushe valley, where manage to make stunning flight very near to Masherbrum summit and back..
The team weapon is last performance model glider from SOL Paraglidrs – Sinergy 5, glide amazing and give you chance to let the brakes free and take the best photo :)
Cloud base was to low for altitude record only 6.000m. but instant was really pretty and make us smile for long time… :)
Next stop is Hunza and Booni valleys !
15.05.2013
Just arrived at Hunza in welcome crystal clear conditions after 12h jeep ride trough Karakorum Highway..
Check out some new photos from the trip :)
16.05.2013
Amazing start of the flying in Hunza middle big conditions cloud base around 6300m many options in the valley and for XC distance…
check out the view!
18.05.2013
The day start crysle blue with some slim inversion layers, we take off at 11:30 and was hard to climb at the beginning.. Not long time after get higher in to some really powerful conditions with rough strong termals which clopsed my wing completely and make my canopy cam stuck and tangle in the lines! The glider was flying in a very bad shape for around 5 min before to manage to recover… Unfortunately the camera stays there and keep bouncing dangerously with risk to tangle again and push me to go land and miss the day.. At list get some unique shots from it :)
check it out !
29.05.2013
After nearly one week rain in Booni :) finally the weather improve last 3 days we could fly a bit ,and today get first normal day with max height 5650m.
Unfortunately the wind was coming from the North East exactly the direction we can't use for long distance :)
From tomorrow expect better conditions :)
check out some new photos from Booni!
31.05.2013
From Booni to Gilgit flight 9h air time 199km max height 6500m.
The day was not as good as we expect, specially regarding the wind direction etc. We had incredible mix salad wind actually! :)
From 3000 to 4000m we had North East around 11km, from 4000 to 5500m North West 20km and then from 5500 to 6500 West 15/km.
Other wise was truly an epic flight and fight with strong turbulence, had winds and scary scary deep cross pocket valleys where you have to climb or you probably have crash! :)
Check out small section from the flight in photos below :)
09.06.2013
Finally the epic last part of the trip finish with series of good flying days in Hushe going very near around Masherbrum but never really could get n it because of altitude limit max 6500m. Last flight was in over stability but slowly we enjoy getting back by fly in Scardu our Exit point to Islamabad..
Have a look some of the great moments we had in photos below.