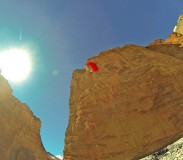 BASE Jump Expedition Himalaya
Together with Victor from Russia after two days of local bus ride we arrive at first point of this expedition, Jomson village at 3000m in Himalayas!
The tricky point was at checking place next to frontier of Mustang area where you need to pay 500 us dollars to step in!
Somehow we managed to pass checking place without paying any dollars!
After a week of walking and searching finally we spot a cliff that we could jump!
Exit is on 3000m(Asl). So after 5h of waiting, due to the strong wind which is usual for this area, we were able to achieve our goal and jump.
See some pictures!