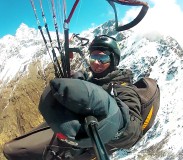 High Altitude Flying in Nepal
The project start from Pokhara, local paragliding site. After 3h of flying I was able to land on the top of Korchon 3100m and take a rest for the morning flight close to Annapurna range!
The plan was to take off early in the morning due to the strong wind high into the mountains, I was forced to take off around 9h in the morning and after 2h of fighting to find good thermals I managed to approach close to Machapuchare summit 6997m.
I could not stay long and explore the place due to the big development of the clouds, so I decide to fly back to Pokhara!
See some pictures from the flight!