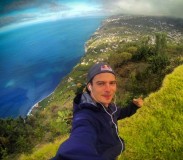 After amazing journey in Oludeniz, FlyTheEarth team move to another great location in Atlantic ocean, Madeira Island!
I can say with a reason that this island is a magic place, cheap and good food, beautiful nature, many places for flying, simply amazing Madeira!
We had days like, waking up 10h go for morning flight on south west side, right after we went to another spot on North side and than came back for sunset on South again!
It is incredible how you can fly all sides of Island in a one day, plus enjoying nature and warm ocean :)
I highly recommended to all of you to visit this place which I call European Hawaii :)
Special thanks to our friends there, Hartmut, Emanuel, Valter, Valery, and all supporters, see you again boys :)