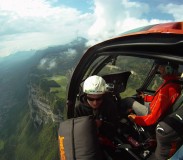 Paragliding Helicopter Jump, France
Get the possibility to join world top pilots for an amazing acrobatics show in the world at Coupe Icare festival France!
In the same time this is the first display at world famous festival by an acro pilot from Serbia and first Paragliding jump from Helicopter in history of Serbian Aviation!
During tree days of festival Around 100 000 people visit St. Hilari Grenoble and get possibilities to enjoy in acrobatics shows performed by world best acro pilots!
See some photos and video from jump.