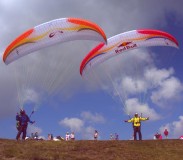 Just get the new toys for the season with Veso Ovcharov.
Today we could try almost all tricks, the glider is full of energy even that is bigger with 1 sq m.
Definitely will be needed to train a bit before feel as one because all is different bake pressure etc.
See some pictures!